Thursday, July 21, 2011
Customer Contribution: Salmon Recipe with Banana Acai Grilling Sauce
Quoted directly from our contributor:
This is a dynamite palate pleaser. We have a couple of ways we spice up our salmon and seem to use the same flavors over and over but, FairHarvest gave a really special zest and is something I look forward to using often and trying in other recipes. Here is my recipe for salmon using FairHarvest banana acai with lime and vanilla flavor.

 Salmon fillets

2 – 3 garlic toes diced

¼ cup Olive oil to coat pan bottom

Salt and pepper to taste

Fair Harvest Banana Acai Sauce with Lime and Vanilla




In grill pan, heat Olive oil and brown diced garlic

Salt and pepper the salmon fillets to taste 

Place on ready grill with skin side down

Pour about 1 TB of Fair Harvest on top of each fillet and spread 

Cover and let cook about 5 minutes on medium/high heat blacking the bottom skin

After 5 minutes, flip and cook a remaining 5 minutes.

The sauce will burn just a bit which really brings out the flavor

Flip fillet once more, turn off heat, cover and let rest about 2-3 minutes covered

Serve and enjoy!




We served over rice accompanied with sautéed mushrooms, red bell pepper and a tomato, avocado and shrimp salad with an olive oil Italian dressing.

Superb and a definite do over!
Tuesday, July 5, 2011
Sunday, June 26, 2011
Looking forward to the Fancy Food Show in DC
With all the activities recently, we lost track of how soon the Summer Fancy Food Show is going to be, so we registered last night. This year the event is in Washington DC, starting July 10th, and it is more exciting since we already have our fruit toppings and spread ready for stores.  Beside the exhibits, we got tickets to the keynote event with Chef Cat Cora, and the sofi™ Awards ceremonies.  
Last year in New York, the show was definitely inspirational, fulfilling (so much food to try!) and tiring, but I cannot wait to see all the new products expected to exhibit from dozens of countries, and all the people at the booths or walking the aisles.
Friday, June 24, 2011
I recently discovered GOOD and their Food section, and I love it!.  The collection of articles in this series tell the story very well about the most common fair trade commodities - at least those where there are certification standards.
Sunday, June 19, 2011
Why Fair Trade?
Even as the movement advocating for the consumption of locally grown food ("locavores") spreads in mostly developed nations, and particularly the U.S., the reality is that there are a lot of imported fruits, vegetables and spices that will not go away.  Tropical fruits like pineapple, bananas, and mango, spices such as cinnamon, vanilla, nutmeg, or staples like coffee, chocolate and tea, are all pretty much a part of the food culture in the U.S. as many local options. 
Significant drivers are the influence of all the ethnic cuisines that have entered the mainstream in North American and European societies, as well as the emphasis on healthy living.  Both have sparked an interest in the properties of many "exotic" imports, with an increasing variety being introduced and marketed.  Is that a fad?  Maybe the initial hype created with some so-called superfruits is waning, but the long-term diversification of our food supply will likely continue as we all get more connected.
However, similarly to how consumers may want to support local producers so that there is a lesser environmental impact from their food choices, there is a movement that wants to support the small producers abroad as well as the workers.  They typically receive the least share of the price consumers pay, which helps perpetuate the poverty level in those regions.  Beyond their exploitation, there is no accountability in the supply chain for the environmental impact of the farming practices.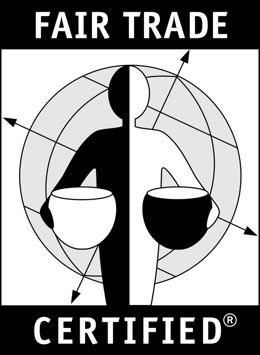 What the first trade movement has done is to create alternative supply chains that not only open a more direct access to markets for producers and brings them closer to the consumer, but also provide technical and development assistance, and incorporate the adoption of social and environmental principles.
The fair trade movement, in contrast to some misconceptions, is not in opposition to market forces and free trade.  It is a way to provide a level-playing field to small producers and to promote sustainable agricultural communities.  The fair trade certification process along the supply chain gives consumers the choice to support these trade practices.
Sunday, June 12, 2011
Our first post!
After months of arduous work and what sometimes seemed to be painfully slow progress, I am excited about having our first product line ready to market.
In the next few days, I will tell you a little bit about our journey here.  For tonight, I am just psyched to be launching our blog! 
Please visit us soon.  We will be announcing the go-live of our e-commerce site shortly.